02 - Connecting to Stripe
Updated by Graham Smith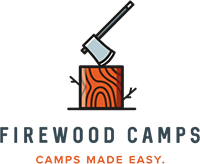 Overview:
This page will help you get your Firewood platform enabled to accept payments. Our Stripe partnerships makes processing payments simple.
Use your Firewood Camps account credentials to log in to your site and follow these steps:
Click the "Account" tab in your Firewood dashboard.
Click the "Connect to Stripe" button to be taken to the Stripe Connect authorization page.
Enter the necessary information into the Stripe form. If you already have a Stripe account, simply authorize the Firewood platform so that we can connect to it.
If you are creating a new Stripe Account, you will need to provide the following information:
Business Address & Phone
Type of business (Sole Proprietorship* / Single Member LLC, LLC, Corporation, Non-Profit, Partnership)
Employer Identification Number (EIN)
Business Website & Description
Bank Routing Number & Account Number
Preferred Stripe Email & Password
Support Phone Number
*For a sole proprietorship - you will need to provide your Social Security Number. This is not stored in our database and is provided securely to Stripe via the inline form.
Once completed, click "Authorize Access To This Account" to connect your Firewood account.
Stripe will send you back to your site's Account tab. You are now set up and ready to accept payments. Welcome to Firewood!
If you run into any issues setting up your account, please reach out to operations@firewoodcamps.com for help.
What is Stripe?
Stripe is the best payment processing company in the digital payments space used by many industry-leading companies (Amazon, DocuSign, Lyft and others). Stripe provides a secure and expedient online payment process.
Firewood Camps has been a Stripe Verified Partner since 2017.
Why do we use Stripe?
Our partnership with Stripe allows our coaches to get their money within 24-72 business hours! Most other companies hold onto your money and only make deposits twice each month (1st and 16th).
Another reason we have partnered with Stripe is their reliable and secure infrastructure.
Stripe has been audited by a PCI-certified auditor as a PCI Service Provider Level 1- the most stringent level of certification available in the payments industry.
Other certifications include:
TLS/SSL encryption with Let's Encrypt!
AFSL in Australia, E-Money License in Europe, and registered MSB in Canada
PSD2 and Strong Customer Authentication (SCA) compliant
How do you benefit from Stripe?
Stripe makes it easy for you to collect, manage and monitor payments online. Your business will receive greater transparency and incur less risk.
Along with Stripe's industry certifications and credentials, they also provide security measures to protect you from fraud, resolve payment disputes and allow full and partial refunds to be built directly into our platform.
89% of cards entered in Stripe payment gateways have been seen by their system before, so if a card number is marked as high-risk in their system the relevant parties will be notified of a possible fraudulent charge attempt.
Stripe also allows for quick exports of all of your transactions and auto-generated tax documentation for easy end of year payment reconciliation.
For more information on our partnership with Stripe, click here.
Please contact operations@firewoodcamps.com if you have any questions or comments about this HelpDoc.
Let us know your thoughts and feel free to rate the article below.