01 - Incorporating Your Business / Setting Up A LLC
Updated by Graham Smith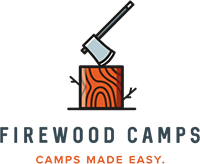 Overview:
The information in this article is intended to help you make a more educated decision on how to create and structure your new business.
If you have already incorporated your business, you can move on to our Connecting to Stripe page.
It is wise to speak with business and legal professionals in your area should you have questions during the incorporation process.
Why?
Having a business bank account allows you to receive payments through the Firewood Camps platform. Before you can get a business bank account, you first need a business.
Most of our clients are incorporated as Limited Liability Corporations (LLCs) or single member LLCs. Incorporating as a LLC provides the business with a few important benefits like legal protection, tax benefits, and the ability to pay yourself via distributions.
How do I create my business?
There are two ways to create your business - you can use a digital service like LegalZoom or Stripe Atlas to help with the process OR you can visit your state's respective secretary of state website and follow the steps to incorporate yourself.
Incorporating directly through your state is typically less expensive.
The rules of incorporating can differ depending on your state, so speaking with professionals in your area can prove helpful. Check your state's business resources to get an idea of the operating rules and regulations in your area.
Investing the time to find accounting and legal professionals you trust will pay dividends in the future.
When am I ready to move forward?
Once you have filed your paperwork and incorporated, you will be provided with an Employer Identification Number (EIN). You will need an EIN to create your Stripe account and for tax purposes in the future.
Next Steps
Read our article on Connecting to Stripe to activate your Firewood account.
Please contact operations@firewoodcamps.com if you have any questions or comments about this HelpDoc.
Let us know your thoughts and feel free to rate the article below.